There is a very important new free firmware update available for the MBX-Series products from Russound!
| | |
| --- | --- |
| Product | New Firmware Version |
| MBX-AMP | 2.0.23 |
| MBX-PRE | 2.0.23 |
What's New
The Russound MBX-Series now supports Apple AirPlay 2 audio streaming! AirPlay 2 offers many exciting new benefits to MBX users:
Multi-brand Synchronization - Not only can you now use AirPlay to play synchronized audio among any MBX-Series products, but you can also now synchronize audio between your MBX products and ANY OTHER AirPlay 2 compatible brand's products. Do you have an MBX system throughout the house and an AirPlay 2 Sonos speaker by the pool and an AirPlay 2 soundbar in another room? All of these can now easily join together for synchronized playback and control using AirPlay from any iOS device.
Voice Control with Siri - Use Siri to play and control your favorite music. Your MBX products can be configured in the Apple Home app and Siri can help you use your favorite music apps to play on your AirPlay 2 devices, including Apple Music, Pandora, and more*.
Uninterrupted Music - With AirPlay 2, your music will continue to play at your party even if you get a phone call. No more interruptions to the music.
Update Available Now

The AirPlay 2 update is available now using Russound's WebConfig system. Firmware Updates are found in the Admin-Firmware Update section of WebConfig. Simply select "Web Update" from that page to obtain and install the most recent firmware.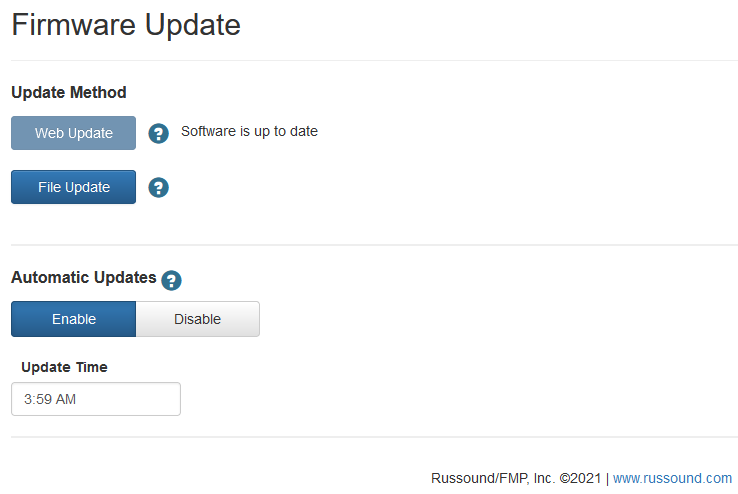 FAQ

What do I need to do to get the update?
The update is available immediately by using WebConfig and going to Admin-Firmware Update - Web Update to begin the process. All MBX-Series products that are configured for automatic updates will receive the update to enable AirPlay 2 support automatically over the next few weeks as the update rolls out globally to all customers.

What is AirPlay?
AirPlay is an Apple technology designed to control home audio systems and speakers in any room — with a tap or by just asking Siri — right from iPhone, iPad, HomePod, or Apple TV. Play a song in the living room and kitchen at the same time or adjust the volume in any room, all in sync.
How do I control the volume while using AirPlay 2?
When an MBX-Series product is actively streaming AirPlay content, the volume control on the MBX and the AirPlay source device such as your iPhone are linked, which means a change in volume on the iPhone will also change the volume level of the MBX and vice versa.

Can I synchronize audio between the MBX-Series and Russound's new VoicePlay products?
Yes, both the MBX-Series and VoicePlay are compatible with AirPlay 2 and can be joined together for synchronized audio when playing AirPlay content. The synchronization is limited to AirPlay content, however. In fact, you can use AirPlay to play synchronized audio between the MBX-Series and ANY brand of AirPlay 2 speakers for truly unlimited and versatile system designs to meet any customer needs.

What else is new in Firmware Version 2.0.23?
In addition to AirPlay 2, this version also includes minor bug fixes and enhancements including updates related to Chromecast, Spotify, TuneIn and Amazon Alexa integration.

When updating the firmware, please remember to make sure that your MBX-Series customers are using the new Russound app.
Download the new Russound app here:
Thank you for your support of Russound and its products