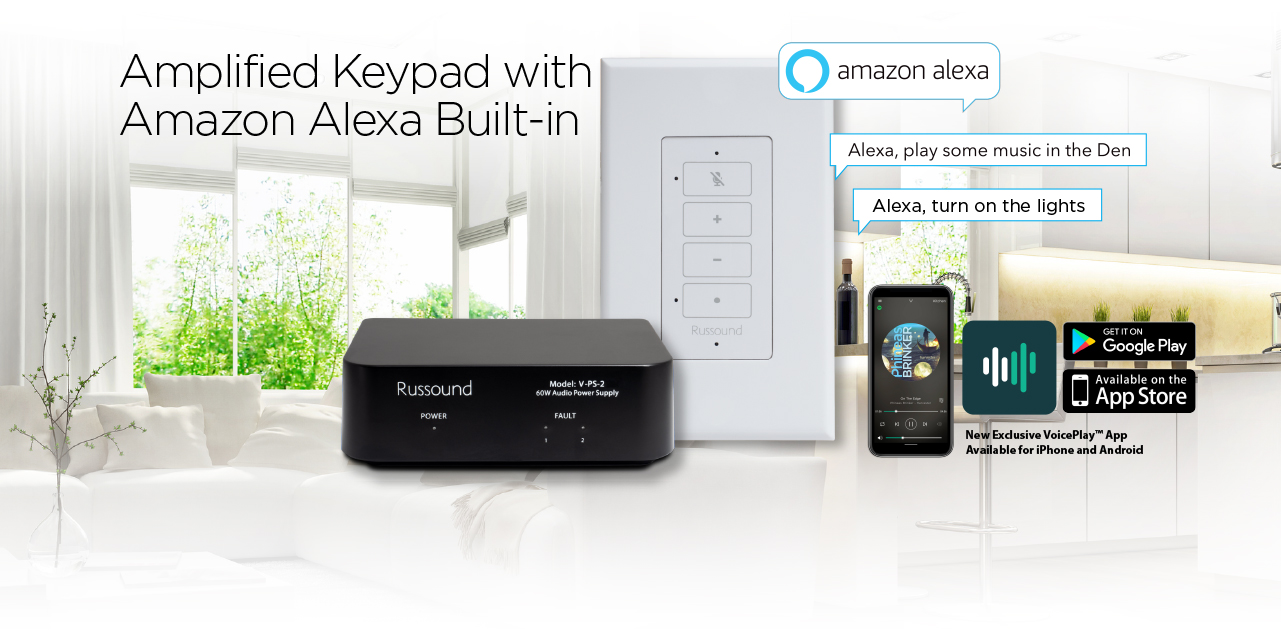 Voice Control with Russound Has Never Been Easier! Introducing VoicePlay, the new streaming, voice-controlled multiroom audio system. The key component of VoicePlay is the V-KP-1, an Amplified Keypad with Alexa Built-in. Our new elegant system features a 2 channel amplifier built directly into the keypad and can deliver crystal clear sound to 2 loudspeakers while being powered via the V-PS-2 60W Power Supply. We also ensured that installation can easily utilize previous audio systems as typically these systems use a home run to connect the speakers in that particular room or zone. This makes the VoicePlay system perfect for any new installs or to quickly and easily update any existing system to add the best of streaming audio, app, and voice control.
See our interactive product training here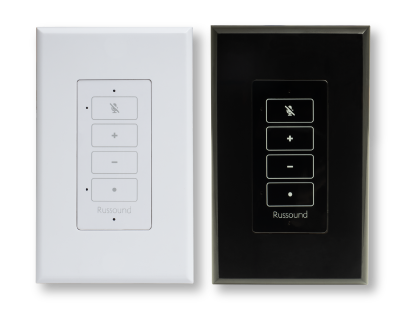 V-KP-1
Amplified Keypad with Alexa Built-In Available in White & Black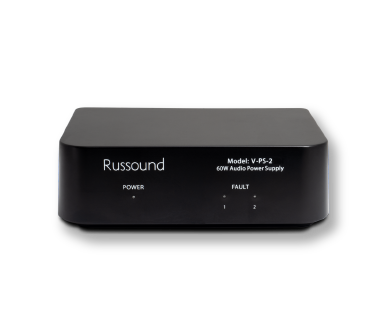 V-PS-2
60W Power Supply
Keypad
Bluetooth, streaming, multi-room audio and app control
Easy touch Volume Up, Volume Down, Mic On/Off and Action (standard Alexa buttons)
15W per channel, synchronize up to 10 rooms
Includes both white and black color options
Power Supply
Power output 60W/24VDC
Each power supply supports two VoicePlay keypads
Over voltage, over current and over temperature protection Over Temperature (All Are Self-resetting)
VoicePlay Keypads and Power Supply are sold separately

Designed as primary audio source in new and existing audio systems

Works with Alexa, Spotify Connect and other popular streaming services

Bluetooth 5.0 for playing audio from any phone or tablet

Power across any existing wiring (A-BUS, CAT-5 or speaker wire)

Great builder solution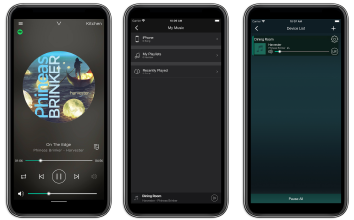 VOICEPLAY APP
The Russound VoicePlay app works exclusively with the Russound VoicePlay V-KP-1. Use the app to select and play your music, podcasts and more, all from your iOS or Android device!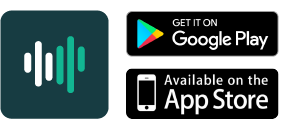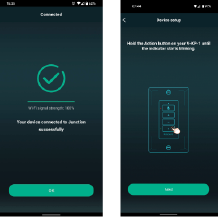 EASY SETUP
To complete your VoicePlay Amplified Keypad setup simply download our handy PDF guide.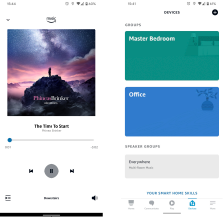 CREATE GROUPS
The Amazon Alexa app is used to create groups of speakers within your home. Once created, you can use them at any time with simple voice control using your VoicePlay system. Download our handy PDF guide to walk you through the process.
USE THE ALEXA APP FOR THIS SETUP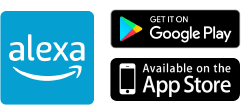 DOWNLOAD

PDF

GROUPS GUIDE

Ease of Use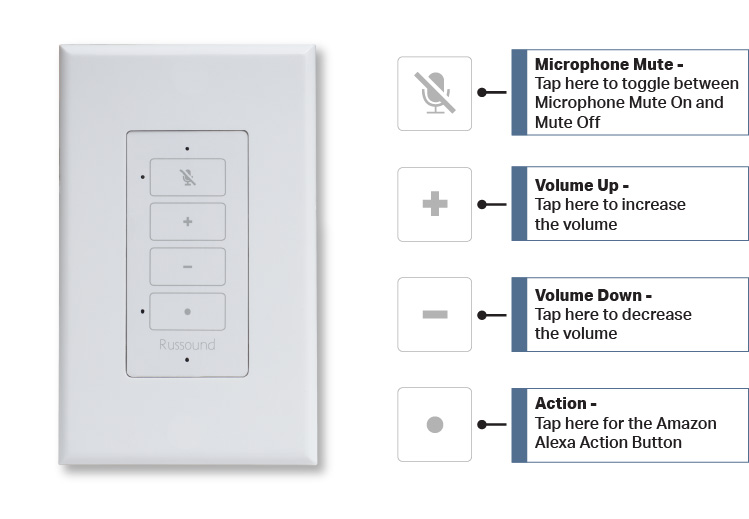 Easily Upgrade Virtually Any System
The V-KP-1 is designed to be able to re-use any existing wiring in a home in order to upgrade existing legacy audio system components to a modern, voice-controllable, multi-room audio system.
The majority of existing installed audio systems utilized a "home" run of speaker wires from some central location to a volume control in each of the rooms of the home. From those volume controls, separate speaker wires would then be run within the room to the left and right loudspeakers.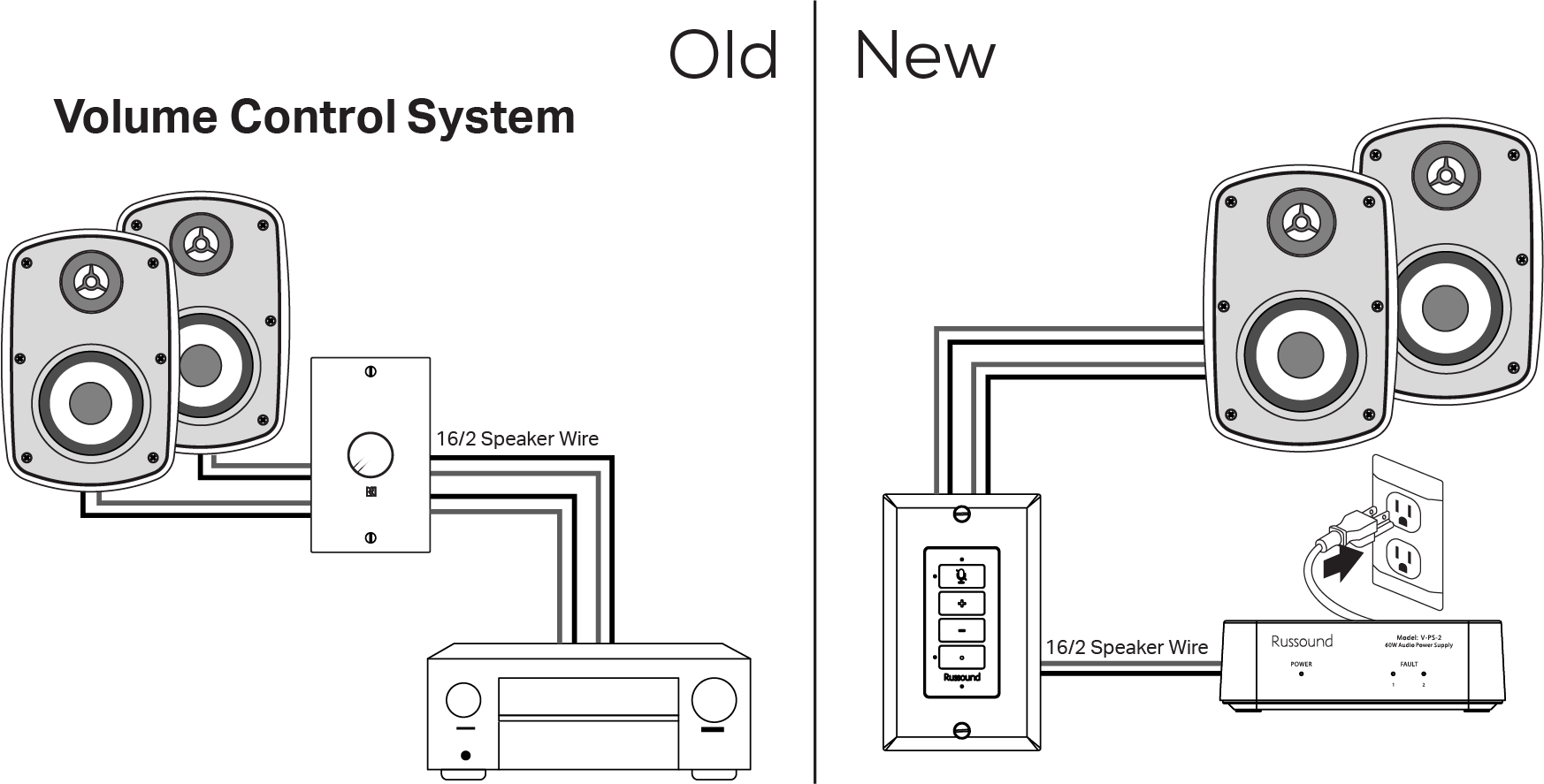 Creating Groups for Synchronized Audio by using the Alexa App
The Amazon Alexa app is used to create groups of VoicePlay devices to use for synchronized audio playback. Once the groups are created, they are available to use with voice control from anywhere in the home. The Alexa app is no longer needed to play music or use the groups. VoicePlay devices can even be in multiple groups for you to use when needed. For example, a Kitchen speaker might be in one group called "Dining Area", in a second group called "Downstairs" and in a third group called "Everywhere". You can then just ask Alexa to play your music on the speaker or group that you desire at any time. Download instructions here.