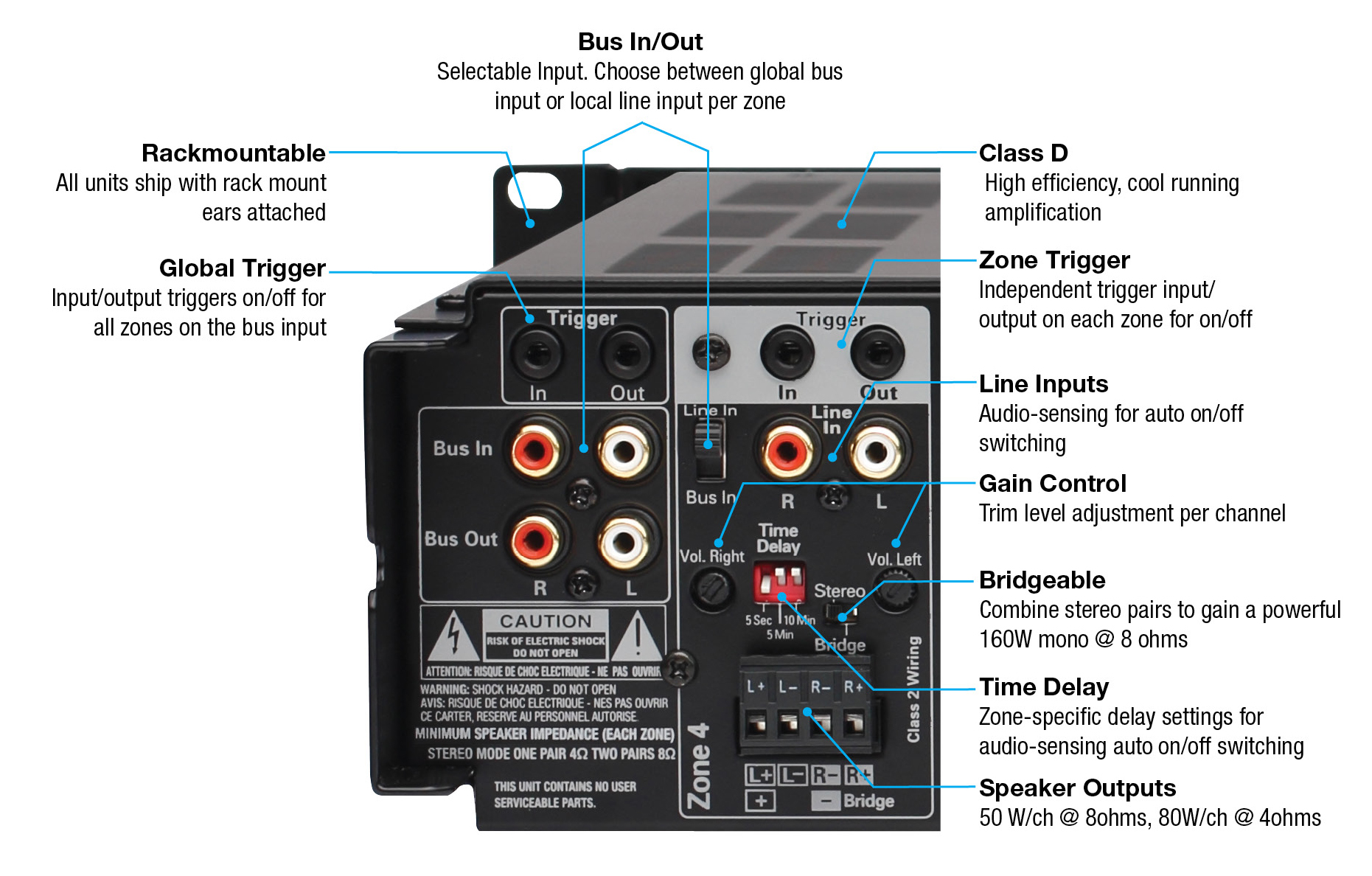 More power in more places
Russound's multi-channel amplifiers are the perfect way to expand any audio system to more areas of the home, or to provide extra power in larger rooms or outdoor areas. Russound's D-Series of digital multi-channel amplifiers are only available through trained installation professionals and offer both exceptional audio quality and intuitive system operation.
What sets the D-Series amplifiers apart
Advanced, cool-running digital amplifi cation
Independent input option for each audio channel
Each stereo pair is bridgeable for a powerful 160w of output
Independent 12v trigger input and output options per stereo pair
Global 12v trigger input/output
Audio Sensing with adjustable time delay
Key Features and Benefits
Cool-running Class D digital amplification
Russound's D-Series amplifiers use a high quality Class D amplification
Class D amplification means that Russound amplifiers provide efficient audio reproduction with low distortion levels, lower operating temperature, smaller size, and lower overall product weight than comparative analog amplifiers
Bus Input with Individual Channel Input Options
Russound's D-Series amplifi ers offer a global bus input with a loop output as well as channel-specific inputs Installers have the option to use the D-Series amps as a standard amplifier, taking one stereo input signal and distributing it to up to 8 stereo zones of audio, but they also have the option of using each amplifier channel individually. For example, a D1650 could power a Dolby® Atmos 7.1.2 system with 7 powerful 160w channels and 2 at 50w, all from a single lightweight chassis
12v Triggers
Russound's D-Series amplifiers have both global in/out 12v triggers as well as zone-specific in/out triggers. The flexibility to turn on the entire amplifier or only specific zones as needed gives installers additional control options to automate their system designs
Rack-mountable
Rack-mount ears are included in the box
Everything is included in the box to use the D-Series amplifiers as either table-top installations, or as a 2U rack-mount installation
Bridgeable
Channels are organized into stereo pairs called zones. Each pair can be bridged to give a powerful 160w @8 ohms
Being able to bridge channels allows an installer to use more power in larger rooms or in outdoor spaces to provide the optimum sound coverage
Multiple Turn-On Options
Easily configure the D-Series amplifiers to activate with a global 12v trigger, with a local 12v trigger, or using their own robust audio sensing circuitry to turn on as needed
Gold-plated RCA Jacks
All RCA connectors on the Russound D-Series amplifiers are gold-plated, for superior, long-lasting connections
Removable, Screw-down speaker terminals
Easy-to-use, removable connectors allow an easier wiring job, faster installation and service, and the screw-down terminals guarantee a reliable connection that will last for years. Up to 14ga wire can be used with these connectors
Individual Channel Gain Controls
Each channel of the Russound D-Series amplifiers can be adjusted with its own gain control, allowing fine tuning for the particular source, or for the particular audio zone to adjust the sound level to match the space's needs
4 Ohm Stable Design
Each channel is stable to 4 ohms, meaning that an installer can use a pair of 8 ohm speakers for each channel if desired. At 4 ohms, the D-Series Amplifiers output 80w per channel
Trusted 2-year warranty
Russound D-Series amplifiers offer a generous 2-year limited warranty on all parts and labor.