Bring your music outdoors with speakers that blend into your landscape

The AW10-HSUB-BR subwoofer offers an elegant, scalable platform for providing high quality audio enhancement to any outdoor area in even the harshest environmental conditions. Specially designed to withstand both extreme heat and cold, this subwoofer works great from the humid, hot conditions of summertime in Florida to the bone-chilling cold of a Minnesota winter. Designed to install quickly and easily in any environment, the AW10-HSUB-BR can be easily hidden in most landscape designs while the rich, deep bass enhances the sound quality for all of your favorite music.

With adjustable feet to keep the subwoofer level on any surface, an integrated security ring, and a simple, waterproof tap-setting knob to adjust any 70V/100V setting or to put this powerful subwoofer into 8-ohm operation for use with any amplifier.

As a passive subwoofer, it's easy to fit into any outdoor design and if desired, feel free to add your favorite active crossover to custom-tailor the sound to maximize its efficiency and give the perfect bass response to match your personal choice.

The AW10-HSUB-BR is designed to add enhanced low frequency response to any outdoor audio system. While designed to be paired with our AW4-LS-BR and AW6-LS-BR landscape satellite loudspeakers, the unobtrusive design of the AW10-HSUB-BR after installation means that this powerful subwoofer can be easily added to any outdoor audio system.
With premium components selected for both durability and audio quality, the AW10-HSUB-BR is designed to enhance audio performance with a large 10" woofer that is designed to disappear into the scenery.
By adding this down firing subwoofer to your audio installation, you are able to overcome the greatest obstacle to good outdoor sound, the lack of adequate bass response. An open environment is the most difficult for achieving adequate sound levels of low frequency sounds such as the bass effects required for modern music. By adding the AW10-HSUB-BR where needed in an installation, the entire system sound quality can be easily improved.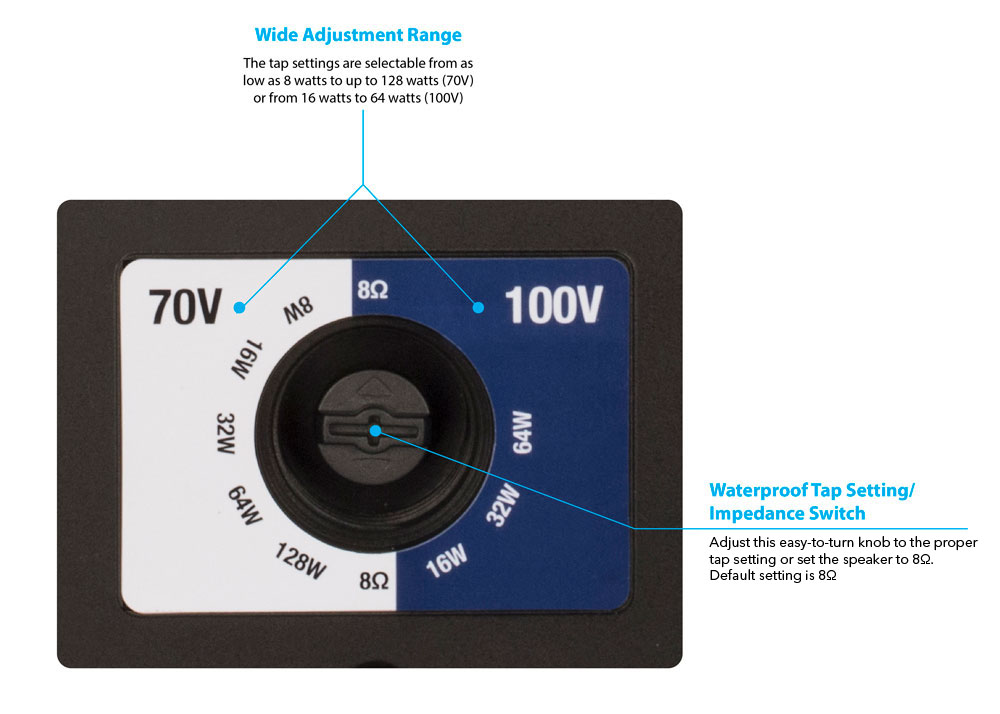 Rugged ASA+HDPE Enclosure for long-term durability in any outdoor environment
Provides superior bass while seamlessly blending with the landscaping design
70V/100V/8Ω options for use in any application
Designed for up to 150 watts
Down firing design to enhance low frequency efficiency
Adjustable mounting feet for easy leveling on uneven surfaces
Designed to pair perfectly with Russound AW4-LS-BR and AW6-LS-BR satellite speakers
Anti-theft security ring for attaching optional security cables or tie-downs
Five year limited warranty
Type: Down Firing Subwoofer
Woofer: 10" (254mm) DVC Long Throw Poly (Santoprene Surround)
Frequency Response: 38Hz - 300Hz +/- 3dB
Impedance: 8Ω - 70/100V
Tap Settings: 70V – 8W, 16W, 32W, 64W, 128W; 100V – 16W, 32W, 64W; 8Ω Bypass
SPL: 90dB @1w/1m
Woofer Enclosure: 16" dia x 17.75"H (40.6 x 45cm)
Unit Weight: 34 lbs (15.4 kg)

All sample XML files are set for using a stereo input signal (Left Channel to Input 1 and Right Channel to Input 2) and use Outputs 1 and 2 for stereo speakers and Output 3 for a mono subwoofer output. Feel free to make any adjustments to your particular DSP settings depending on your preferences or installation requirements.
DSP Settings for AW4-LS-BR used with Russound AW Series Subwoofers: AW4-LS-BR with AW Series Subwoofer miniDSP Example.xml
See first table below
DSP Settings for AW6-LS-BR used with Russound AW Series Subwoofers: AW6-LS-BR with AW Series Subwoofer miniDSP Example.xml
See second table below
DSP Settings for mixed models of AW Series Speakers and Subwoofers: Mixed Models AW Series Speakers and Subwoofers miniDSP Example.xml
See third table below
Recommended DSP Settings when using AW4-LS-BR speakers with any Russound AW Series Subwoofer

Settings for the AW4-LS-BR

Left Channel of Audio

Right Channel of Audio

Input

1

2

Output

1
2

Crossover Filter

24/dB/Octave LR* Highpass Filter set to 200Hz

24/dB/Octave LR* Highpass Filter set to 200Hz

Input Routing Configuration in miniDSP 2x4 HD

(Outputs 1 and 2 are stereo and Outputs 3 and 4 are summed mono outputs)

Bandpass Output Configuration to AW4-LS-BR

Output 1(Left) and 2(Right)

Settings for the AW Series Subwoofer

Crossover Filter

48db/Octave BW* Highpass Filter set to 30Hz

24 dB/octave BW Lowpass Filter set to 200Hz

Bandpass Output Configuration to AW Series Subwoofer

Output 3 (It is outputting a summed mono signal of Inputs 1 and 2)

Parametric Filter 1

Low Shelf Filter set to 115Hz, 5.0dB Gain with Q=1

Parametric EQ Band 1 for Output 3 for the AW Series Subwoofer

Parametric Filter 2

Peak Filter set to 35Hz, 1.0dB Gain with Q=1

Parametric EQ Band 2 for Output 3 for the AW Series Subwoofer
Recommended DSP Settings when using AW6-LS-BR speakers with any Russound AW Series Subwoofer

Settings for the AW6-LS-BR

Left Channel of Audio

Right Channel of Audio

Input

1

2

Output

1
2

Crossover Filter

24/dB/Octave LR* Highpass Filter set to 150Hz

24/dB/Octave LR* Highpass Filter set to 150Hz

Input Routing Configuration in miniDSP 2x4 HD

(Outputs 1 and 2 are stereo and Outputs 3 and 4 are summed mono outputs)

Bandpass Output Configuration to AW6-LS-BR

Output 1(Left) and 2(Right)

Settings for the AW Series Subwoofer

Crossover Filter

48db/Octave BW* Highpass Filter set to 25Hz

24 dB/octave BW Lowpass Filter set to 150Hz

Bandpass Output Configuration to AW Series Subwoofer

Output 3 (It is outputting a summed mono signal of Inputs 1 and 2)

Parametric Filter 1

Low Shelf Filter set to 90Hz, 5.0dB Gain with Q=1

Parametric EQ Band 1 for Output 3 for the AW Series Subwoofer

Parametric Filter 2

Peak Filter set to 30Hz, 1.0dB Gain with Q=1

Parametric EQ Band 2 for Output 3 for the AW Series Subwoofer
Recommended DSP Settings when mixing models of AW Series Speakers and Subwoofers

Settings for the AW Series Speaker(s)

Left Channel of Audio

Right Channel of Audio

Input

1

2

Output

1

2

Crossover Filter

24/dB/Octave LR* Highpass Filter set to 150Hz

24/dB/Octave LR* Highpass Filter set to 150Hz

Input Routing Configuration in miniDSP 2x4 HD

(Outputs 1 and 2 are stereo and Outputs 3 and 4 are summed mono outputs)

Bandpass Output Configuration to AW6-LS-BR

Output 1(Left) and 2(Right)

Settings for the AW Series Subwoofer(s)

Crossover Filter

48db/Octave BW* Highpass Filter set to 25Hz

24 dB/octave BW Lowpass Filter set to 150Hz

Bandpass Output Configuration to AW Series Subwoofer

Output 3 (It is outputting a summed mono signal of Inputs 1 and 2)

Parametric Filter 1

Low Shelf Filter set to 90Hz, 5.0dB Gain with Q=1

Parametric EQ Band 1 for Output 3 for the AW Series Subwoofer

Parametric Filter 2

Peak Filter set to 30Hz, 1.0dB Gain with Q=1

Parametric EQ Band 2 for Output 3 for the AW Series Subwoofer