Bring your music outdoors with speakers that blend into your landscape
The AW6-LS-BR loudspeaker offers an elegant, scalable platform for providing high-quality audio to any outdoor area in even the harshest environmental conditions. Specially designed to withstand both extreme heat and cold, the speakers work great from the humid, hot conditions of summertime in Florida to the bone-chilling cold of a Minnesota winter.
The key component of the Russound landscape audio system is the AW6-LS-BR, a 6" 2-way design satellite speaker that can be mounted anywhere in an outdoor space, from ground level to the treetops. Its small profile and subtle coloring allow it to blend into your landscape design while its high-quality audio complement can add a new dimension of sound to your outdoor living space and bring your favorite music to your backyard, patio, pool, or lanai.

The AW6-LS-BR allows you to transform any outdoor space into an elegant, inviting space where the music you enjoy indoors can be easily enjoyed outdoors without the need for large and unsightly loudspeakers that clutter the view and limit your (and your landscape designer's) choices when designing your perfect outdoor living areas. Mix and match with other Russound landcape speakers, including by adding extremely deep bass with one of Russound's popular outdoor subwoofer models. The extreme durability of the housing and the all-weather design allow for a simple installation that is built to last as it brings you your favorite music for all of your outdoor gatherings.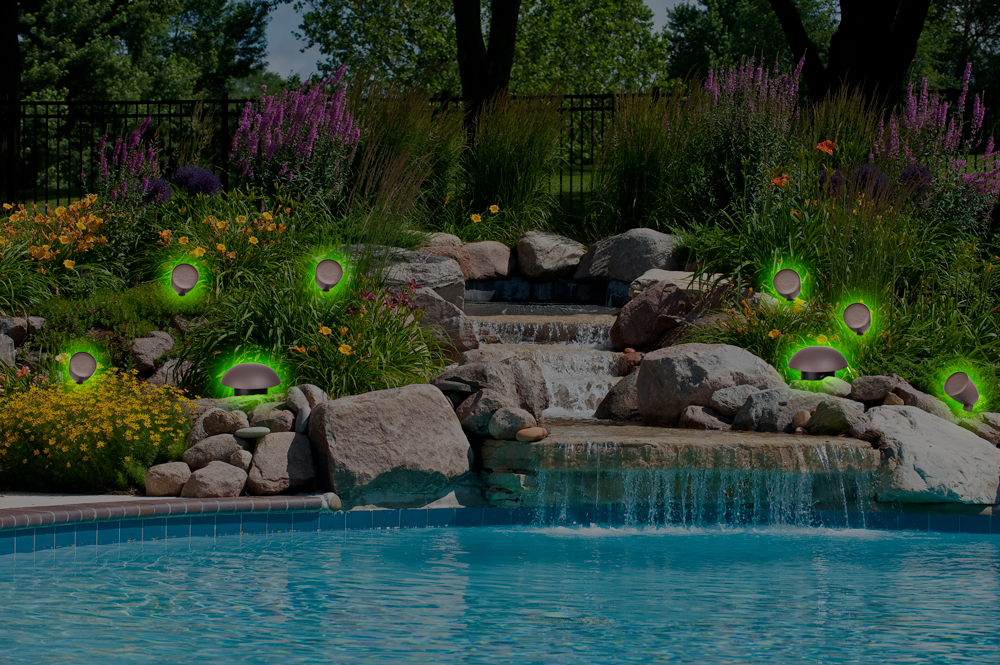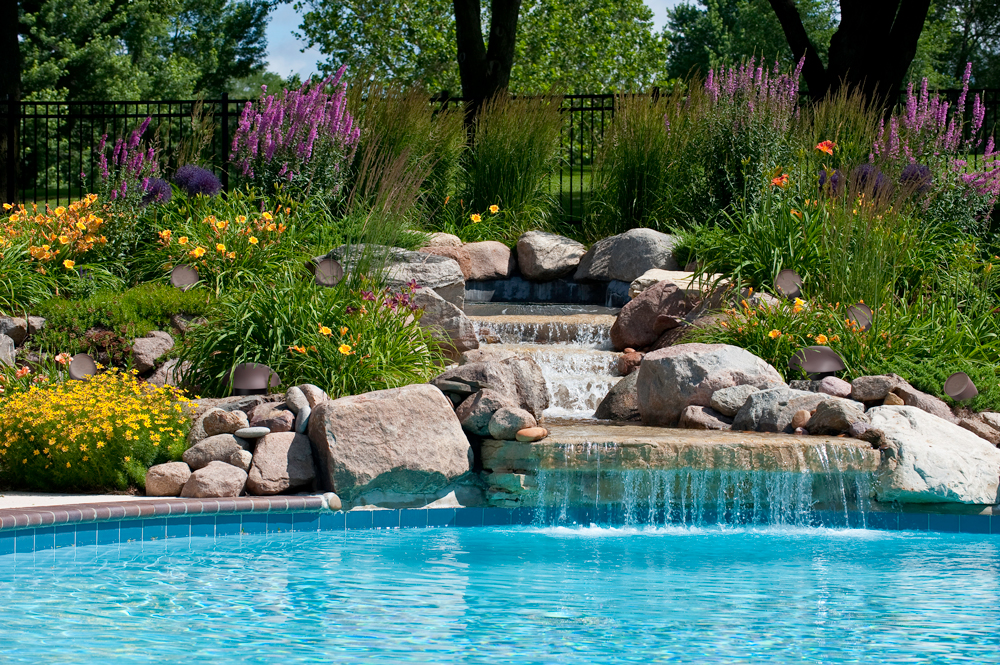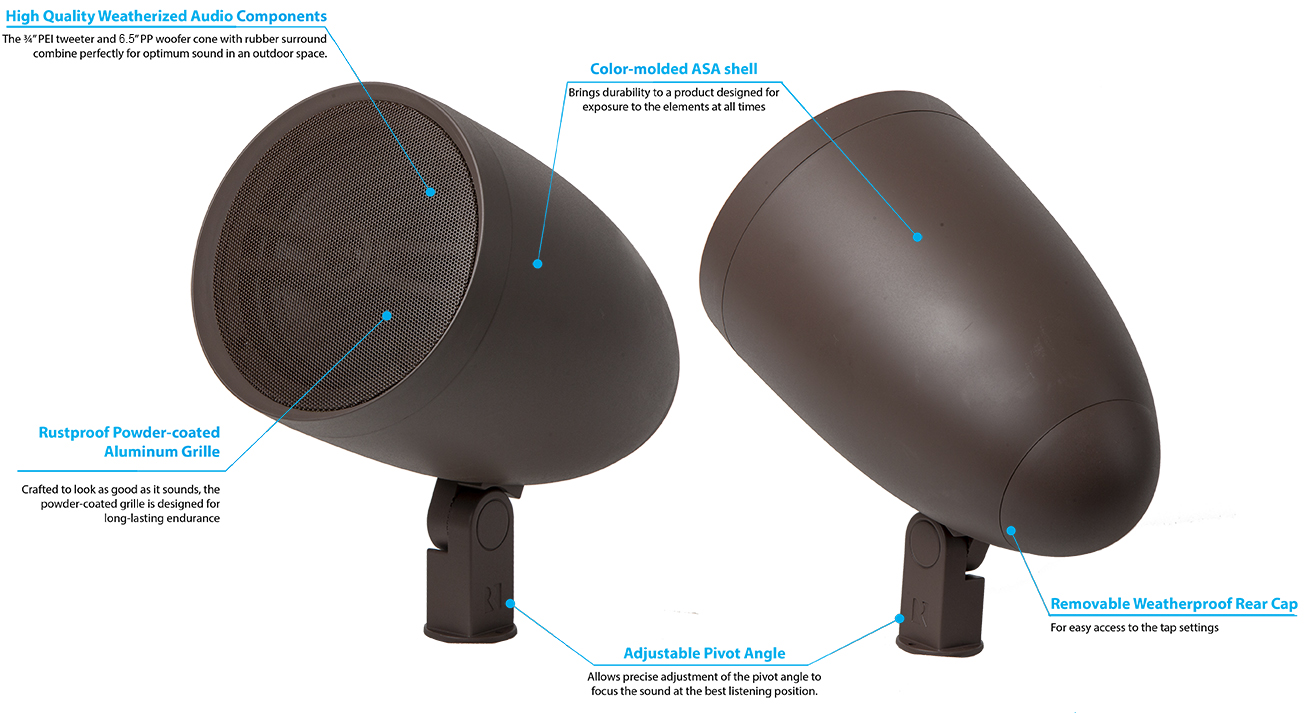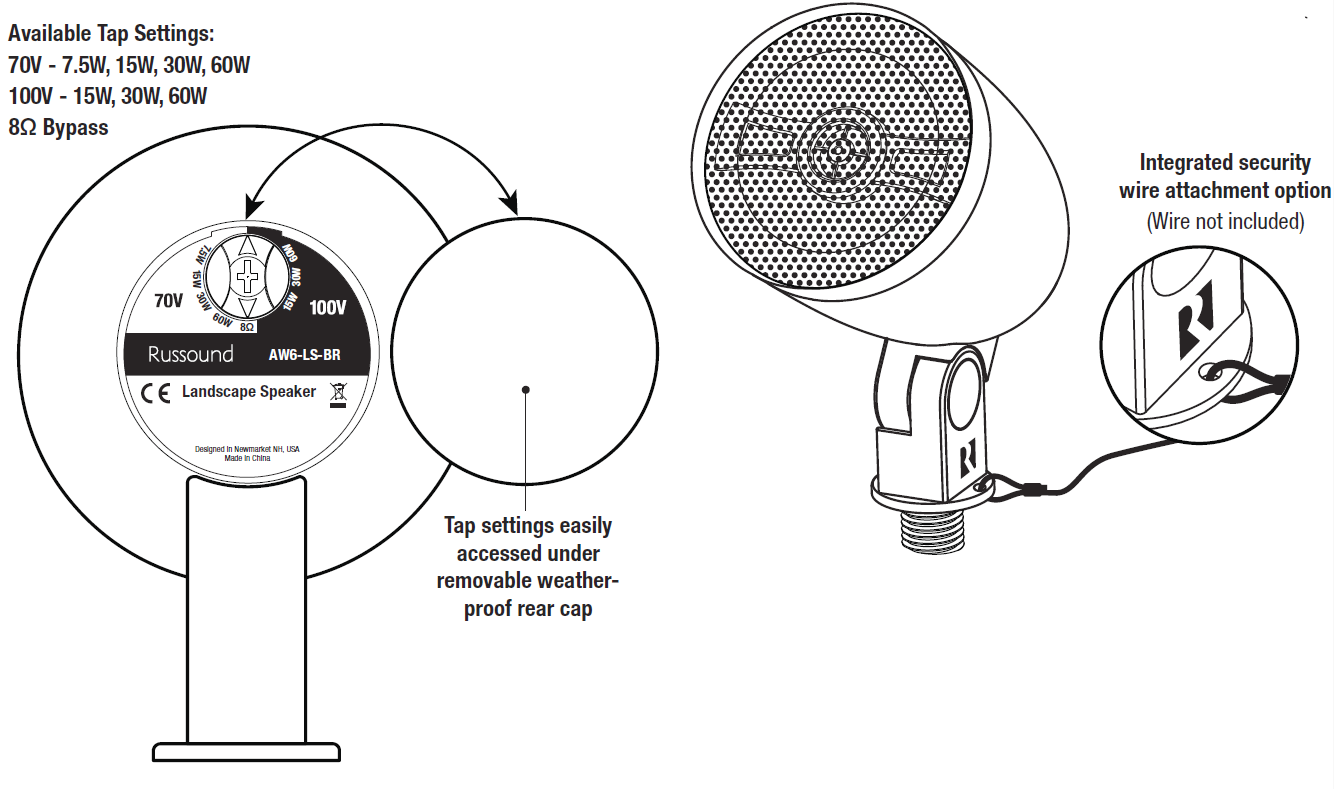 Designed for excellent sonic performance in any outdoor space
Rust-proof aluminum grille and color-molded composite construction won't chip, peel, or fade over time
150° vertical directional adjustment allows sound to be directed where desired in any installation
ASA-based material design for maximum UV protection and environmental endurance from -15°F to 160°F (-25°C to 70°C)
Flexible 70v/100v/8Ω design with adjustable tap settings for use in any application
Includes 11" mounting stake and waterproof wire nuts
Works with 1/2"-threaded landscape lighting mounts for limitless mounting options
Five year limited warranty
Type: 2-Way Landscape Speaker
Woofer: 6.5" (165mm) PP Weatherproof Cone (rubber surround)
Tweeter: 3/4'' (19mm) Marine Grade PEI Dome
Frequency Response: 50Hz - 20kHz
Impedance: 8Ω - 70/100V
Tap Settings: 70V – 7.5W, 15W, 30W, 60W; 100V – 15W, 30W, 60W; 8Ω Bypass
Recommended Power Rating: 5-125W RMS
SPL: 90dB @1w/1m
Dimensions: 11 3/8" L x 7 1/5" Diameter (289 x 191 mm)
Unit Weight: 6.2 lbs. (2.8 kg)

All sample XML files are set for using a stereo input signal (Left Channel to Input 1 and Right Channel to Input 2) and use Outputs 1 and 2 for stereo speakers and Output 3 for a mono subwoofer output. Feel free to make any adjustments to your particular DSP settings depending on your preferences or installation requirements.
DSP Settings for AW6-LS-BR used with Russound AW Series Subwoofers: AW6-LS-BR with AW Series Subwoofer miniDSP Example.xml
See table below
DSP Settings for mixed models of AW Series Speakers and Subwoofers: Mixed Models AW Series Speakers and Subwoofers miniDSP Example.xml
See table further down the page
Recommended DSP Settings when using AW6-LS-BR speakers with any Russound AW Series Subwoofer

Settings for the AW6-LS-BR

Left Channel of Audio

Right Channel of Audio

Input

1

2

Output

1
2

Crossover Filter

24/dB/Octave LR* Highpass Filter set to 150Hz

24/dB/Octave LR* Highpass Filter set to 150Hz

Input Routing Configuration in miniDSP 2x4 HD

(Outputs 1 and 2 are stereo and Outputs 3 and 4 are summed mono outputs)

Bandpass Output Configuration to AW6-LS-BR

Output 1(Left) and 2(Right)

Settings for the AW Series Subwoofer

Crossover Filter

48db/Octave BW* Highpass Filter set to 25Hz

24 dB/octave BW Lowpass Filter set to 150Hz

Bandpass Output Configuration to AW Series Subwoofer

Output 3 (It is outputting a summed mono signal of Inputs 1 and 2)

Parametric Filter 1

Low Shelf Filter set to 90Hz, 5.0dB Gain with Q=1

Parametric EQ Band 1 for Output 3 for the AW Series Subwoofer

Parametric Filter 2

Peak Filter set to 30Hz, 1.0dB Gain with Q=1

Parametric EQ Band 2 for Output 3 for the AW Series Subwoofer
Recommended DSP Settings when mixing models of AW Series Speakers and Subwoofers

Settings for the AW Series Speaker(s)

Left Channel of Audio

Right Channel of Audio

Input

1

2

Output

1

2

Crossover Filter

24/dB/Octave LR* Highpass Filter set to 150Hz

24/dB/Octave LR* Highpass Filter set to 150Hz

Input Routing Configuration in miniDSP 2x4 HD

(Outputs 1 and 2 are stereo and Outputs 3 and 4 are summed mono outputs)

Bandpass Output Configuration to AW6-LS-BR

Output 1(Left) and 2(Right)

Settings for the AW Series Subwoofer(s)

Crossover Filter

48db/Octave BW* Highpass Filter set to 25Hz

24 dB/octave BW Lowpass Filter set to 150Hz

Bandpass Output Configuration to AW Series Subwoofer

Output 3 (It is outputting a summed mono signal of Inputs 1 and 2)

Parametric Filter 1

Low Shelf Filter set to 90Hz, 5.0dB Gain with Q=1

Parametric EQ Band 1 for Output 3 for the AW Series Subwoofer

Parametric Filter 2

Peak Filter set to 30Hz, 1.0dB Gain with Q=1

Parametric EQ Band 2 for Output 3 for the AW Series Subwoofer